"A Real Live Herbalist"
Matthew Wood has been a practicing herbalist since 1982. In a period when many authors and lecturers are merely "arm chair herbalists" who offer theories and opinions based on book learning, and others have turned to the exotic traditions of India or China, he has been an active practitioner of traditional Western herbalism. He has helped tens of thousands of clients over the years, with many difficult health problems. While Matthew believes in the virtue of many other healing modalities, he has always been inspired to learn, preserve, and practice the tradition of herbal medicine descending to us from our European, Anglo-American, and Native American heritage. He is a member of the American Herbalists Guild (registered herbalist) and has earned his Masters of Science degree from the Scottish School of Herbal Medicine (accredited by the University of Wales).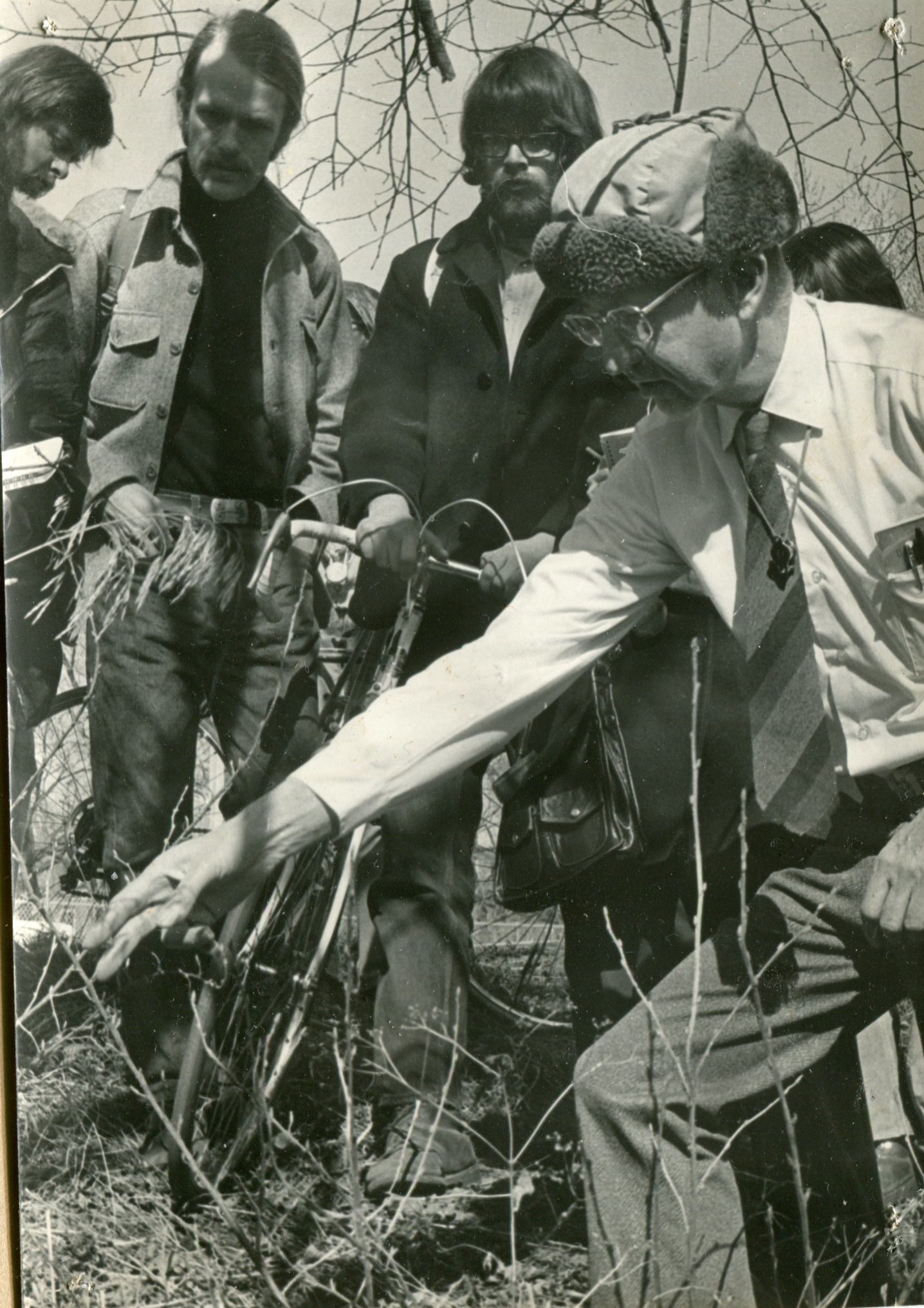 Matthew Wood, age 19, learning plant ID
Dr. Don Lawrence, Professor Emeritus, Botany Department, University of Minnesota, on the right, points to a spring wildflower, April 1973, "Field Botany." Matthew Wood in center on bike, Duncan McCutcheon to the left. Photo by Tom Weaver.


Sunnyfield Herb Farm
In 1992 Matthew moved to a little farm in Minnetrista, thirty-five minutes west of downtown Minneapolis. The seventeen acres consisted of fields, woods, swamps, prairies, and herb gardens. He called it "Sunnyfield Herb Farm" after the road out front. In 2003 a careless 'guest' burned down the guest house and Matthew thought it prudent to move. In 2006 he removed to a beautiful oak woods about ten miles away, in Maple Plain. In 2010 he moved to land in Wisconsin. He still calls his business "Sunnyfield Herb Farm." A friend continues to live on the old farm.


International Lecturer and Author
Matthew has lectured in all parts of the United States, from Georgia to Maine, New York to California, and Santa Fe to Sperryville, Virginia. He has also taught in Canada, Scotland, England, France, and Australia. He is known throughout the world as an excellent teacher of herbal medicine. He is also the author of six acclaimed books on herbal medicine, published by North Atlantic Books, in Berkeley, CA:
Seven Herbs, Plants as Teachers (1987)
Vitalism, The History of Herbalism, Homeopathy, and Flower Essences, originally entitled The Magical Staff (1993)
The Book of Herbal Wisdom (1998)
The Practice of Traditional Western Herbalism (2004)
The Earthwise Herbal, A Complete Guide to Old World Medicinal Plants (2008)
The Earthwise Herbal, A Complete Guide to New World Medicinal Plants (2009)

To hear an interview of Matthew Wood by Susun Weed, click on any of the links below:
http://wisewomanradio.com/interviews/mwood.html
http://www.wisewomantradition.com/wisewomanweb/2012/01/wise-woman-radio-matthew-wood.html
http://www.womensradio.com/2012/01/traditional-western-herbalism-with-matthew-wood/

Contact
Order books by email or telephone. Matthew Wood is available for teaching in different areas of the country. See his schedule, or call if there is local interest in your area. He is also available as an herbal practitioner.
Birth data: June 4th, 1954, 3:47 pm DST, Minneapolis, MN
Matthew Wood
N7874 535th St., Spring Valley, WI, 54767

greenmedic@copper.net